I'm late in posting this again! This weekend has been a whirlwind of errands for me. Because I'm swamped during weekdays, I usually schedule my personal errands on the weekends, which is really not enough time as I usually stay until late in the afternoon at the printing press on Saturdays, proofreading and editing and attending to last-minute revisions or covering any breaking news. The paper, which is a weekly, goes to press on Saturdays. So on Saturdays I'm cooped up at the printing press. I can think of a lot of other pending tasks that I would rather accomplish on my Saturdays, believe me.
Who was it who said that journalism is literature in a hurry? I quite agree with it, as journalists are people who are always in a hurry haha!
Anyway, enough about my whining. Nobody has a perfect life (as I keep telling myself when I feel like my job is sucking the life out of me) but at least there are things (and people!) that make our lives worth living. Small things or rituals that make perfect combinations :-) Like enjoying coffee with dark chocolates during a rainy day, or curling up in bed with a good horror book and big fluffy pillows.
I have a lot of other perfect combinations, and this is one of them:
20% off until Wednesday (Sept. 15, 2010)
Perfect Combination
is my newest kit at MScraps featuring my favorite color combo: black + grey + hot pink. This kit contains my own vector drawings, doodles and li'l bits of shiny elements.
You can also buy the element pack separately:
20% off until Wednesday (Sept. 15, 2010)
Oodles of gorgeous layouts from my CT and the MScraps CT: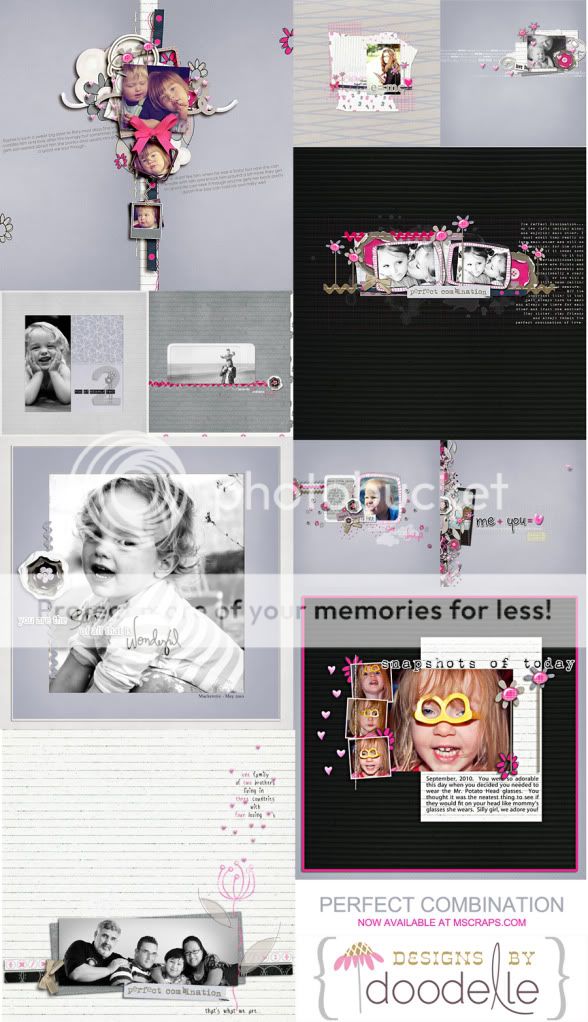 By the way, I'll be disabling the Cherry Blossoms CU freebie I posted days earlier to make way for a new freebie which I'll be posting tomorrow. So do check back in here tomorrow to grab it. :-)