I meant to post here yesterday but something came up (something always seems to be coming up these days!). So I'll have to post later those pics I've wanted to show you guys of some interesting stuff I stumbled onto while doing the rounds for a Unicef-commissioned project that I'm working on right now.
For now, I'm writing this to promote my new kit up at MScraps:
20% off till Monday
(July 5)
This item is the FULL KIT containing 13 papers, more than 50 unique elements, alpha set (vector-written lowercase a-z), PLUS 2 photo masks and doodled borders in layered Photoshop (.psd) file
BUY IT NOW!
You can also buy the element pack individually
HERE
:
And the alpha pack also
HERE
:
Remember, everything is 20% off until Monday!
Right now, I'm working on revamping one of my older kits that I retired a while ago before I moved to MScraps. Actually this is a request from someone who saw that kit but wasn't able to buy it back when it was still up at my previous store. My free time lately has been consumed by this revamp! So I hope you'll enjoy it when it finally goes to the store. I'm planning on doing a one kit call for this over at DST, MScraps and Facebook, then do another round of giveaway plus throw around some discount coupons...Heck, yeah, what are we in digital scrapbook for?
Isn't it to spread some love around? *wink*
More changes coming up soon too! But I can't spill the beans here now and spoil the surprise. You'll just have to stick around here or hook up with me on Facebook if you don't want to miss that surprise in the next few weeks. :-)
For now, if you feel like shopping this weekend, don't forget to add Dear Darling to your shopping cart! :-)
I leave you with the following BEAUTIFUL page inspirations from the MScraps and my CTs:
From Jen
From me:
From Tammy Wood:
From Leilani:
From Sarah:
From Maaike:
From Raji: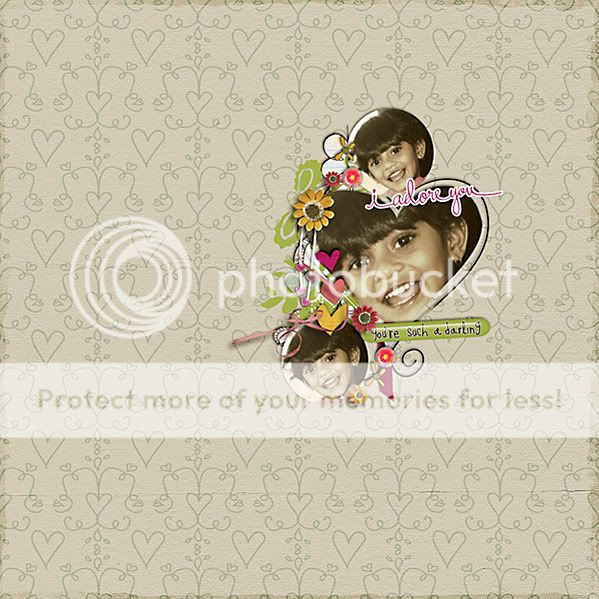 From Pom:
From Sassy Indy:
And belated HAPPY BIRTHDAY to
Tammy
! When you stop by her blog, drop her a birthday greeting and keep her and her mom in your prayers too (
read about it in her blog
).